Welcome to the December Drop Party for RSBandB!
We are going to hold a drop party on 23 December and you are invited! Just like last year there will be a F2P and a P2P drop party.
Here you can see a
small
preview:
We will drop more!
Location:
Both drop parties take place east of Edgeville. Here to be precise: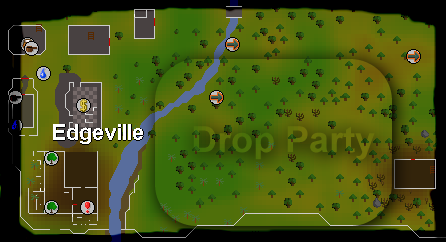 Date and times:
Saturday 23 December
P2P:.:.:.:.:.:.:.:.World 65.:.:.:.:.:.:.:.:
9:00 PM GMT
1:00 PM PST
2:00 PM MST
3:00 PM CST
4:00 PM EST
F2P:.:.:.:.:.:.:.:.World 63.:.:.:.:.:.:.:.:
10:00 PM GMT
2:00 PM PST
3:00 PM MST
4:00 PM CST
5:00 PM EST
Dropped items:
The Events crew will get some items for the drop party. However it would be appreciated to donate some items to this drop party. Every item that gets donated will be dropped. People who donate items for this drop party will receive a signature telling how much you did to make this drop party a succes.
To donate items add any of the following persons to your friendlist and pm them ingame:
The Blue Men
Freddie940
Hummerwar921
Bib User
Creepybacon
Current donations:
Matt
Shane
+
+
Anubis
MagicJarvis
Penguinsrock
Gaara
Besadon
Nmr7
Southrend
Ult Mac Daddy
Brandt
Franky042
Mainiacks
Tjbartz
Braaron
kjth2003
g01_unitcrew
Just be patient guys your sigs are on the way!
___
!Special announcement!
In order to complement the RSBANDB Christmas Drop Party on December 23 at 9Pm GMT the RSBANDBUpdate! crew is hosting a live episode starting at the same time the drop party starts. This will be a standard RSBANDBUpdate! show with live questions from you guys. (Note: We reserve the right to mute/remove anyone from the live RSBANDBUpdate! episode.)
If you just want to listen to the live stream you can do this by going directly to the talkshow page and clicking listen live.
In order to appear on the show you must either be able to call long distance to the US using your land line (don't worry there's no way we see your phone number). If you do not wish to call long distance you can use the SkypeOut service which is free to US and Canadian residents until December 31, 2006. You must download and install Skype from
http://www.skype.com
, you must also have a microphone and headphones so that we don't get feedback from your mic.
We will have a guide later on how to install skype, create a talkshow account, connect to the show (with a brief preview of how to ask to talk), and finally for those who just want to listen we'll have a guide for that too.
You can take a look at the guide for joining the live show
here
.
This show will also be shipped out as a MP3 file the day after the show.
Hope to see you there!