The Wise Old Man of Draynor Village has retired from his long career as an adventurer, following the events of Swan Song. However, the peace* of his retirement is about to be shattered when an extremely unpleasant figure emerges from his past to wreak havoc on him (and you). Prepare to join forces with the Wise Old Man to fight, not just for your lives, but for the reputation of adventurers everywhere.
*It might have been more peaceful if he hadn't decided to rob a bank.
Start: Speak to Mabel in the barn north-east of Draynor Village
Requirements:
* 77 Magic
* 68 Construction
* 68 Smithing
* 67 Crafting
* Swan Song
* Freeing Sir Amik Varze in Recipe for Disaster
Items needed: Chisel Steel bar, Mithril bar 2 Oak planks, range gear, food, anti dragon shield
optional, potions, halberd (highly recommended), antidragon potion, clockwork (will not need steel bar)
1. talk to mabel in the barn north east of draynor village.
2. she has lost her ring and needs you to get it back for her. head up the ladder next to her.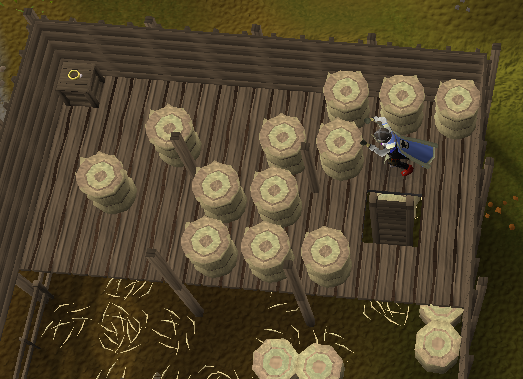 3. you'll have to push hay bales out of the way. once you do grab the ring and something will explode.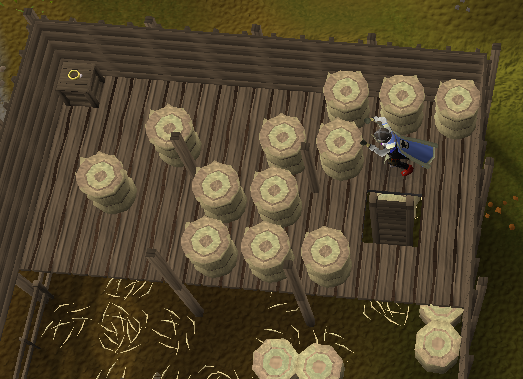 4. zenevivia will appear and wants you to find a twig. find it then talk to her again.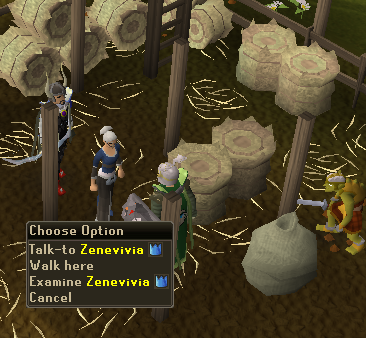 5. she'll challenge you do a duel with the wise old man and teleport away.
6. talk to the wise old man for a cutscene.
7. grab your chisel and combat gear, anti dragon shield and head over to rimmington, but keep at least 2 inventory space free.
8. he'll try to enter his house but it doesn't work.
9. you'll get 100 teletabs. talk to to the old man and you'll chip a teletab.
10. when you open it you need to connect the lines from the starting node to the top. when you're done there is the upper half to do.
11. break the teletab and you'll go into his house
12. you'll have to crawl through the dungeon, tell the wise old man to go inside first.
13. you'll have to make an object in the workshop. make a clockwork if you haven't and talk to the wise old man for the rest.
14. use the dummy on the dungeon. there are 2 traps in every room except the beginning with the staircase and the room with the pit scabarite which there is only 1.
15. fight your way through the area and up the stairs at the end.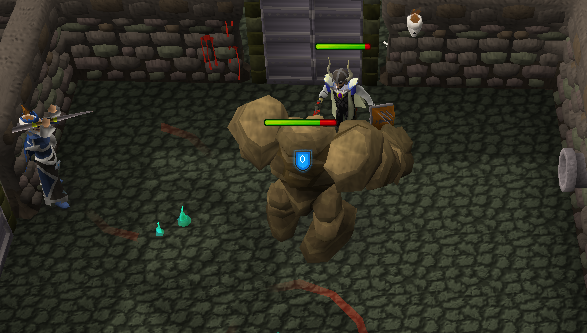 16. talk to her to begin the battle. good idea to potion up before beginning the battle.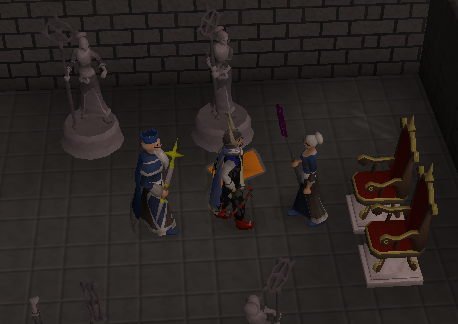 17. she will use magic spells, use range to attack her from a disease and turn on protection from mage. also she will set the floor on fire which you must run away from. when she gets onto the statue, switch to your halberd and attack her from 2 spaces away. if you get too close she'll push you back. and also be careful of the fire and watch your health.
18. when the battle is finished, you'll be taken back to draynor.
19. they'll go and raid the wizard's tower.
20 get the ring back after the raid and you're done.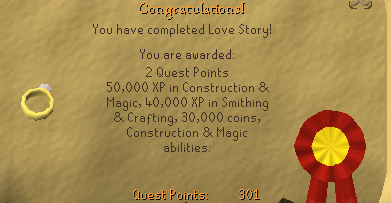 other rewards
dark stone house decoration
cost of servants reduced 25%
build a dungeon pit in POH
return the ring to mabel for a 10k lamp for any skill over 60.
you can also cut down the banker in the tree for 5k.