This is not a fake, nor has Jagex been hacked. It is merely some corrupted data:
Paul - Jagex Mod wrote:
No the hiscores weren't hacked, so no need to panick

It was just a bit of corrupted data on one of the saved game accounts.

Similar things have happened in the past. (though its a long long while since it happened so most of you probably weren;t even playing back then)- its just computers being computers for you.
Not much you can do about it.

Nothing was hacked. There was no security breach of our systems. The owner of the account probably isn't even aware it happened.

Its sorted now anyway.
Andrew also had something to say...
Andrew - Jagex Mod wrote:
Lots of people have noticed rose734 suddenly appearing at the top of the hiscores with a very very weird score.

No I don't think the hiscores were 'hacked'. The more likely explanation is rather more mundane. From here all the symptoms look exactly like a bit of random memory corruption. Computer memory isn't 100% reliable, and with over 100 machines all running 24 hours a day the chances of a memory read returning the wrong value eventually are actually quite high.

Normally of course this just causes the machine to crash or something inconsequential to happen, in this instance it's happened to cause a bit of corruption on the hiscore table.

Of course I'll investigate further, but I don't think it's anything to be too concerned about.

To solve the problem for now I've just (temporarily) switched off that account, since it's a very low-level (not done any quests etc..) account anyway, and I will manually fix the corruption and re-enable it when I get back to work on monday.

Andrew
This Rose person is not normally in the high-scores, so you wont find her.
The Prayer table was also glitched.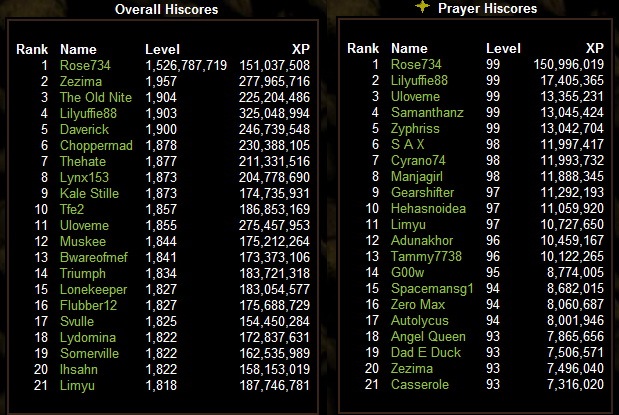 It has been finxed now, so closed.