Feeling the chill of the season? Descend into the fiery underbelly of Senntisten for the final front of the Elder God Wars Dungeon and you'll warm up in no time - read on to find out more! We've also got Halloween goodies galore as we unveil the Grim Harvest: a Treasure Hunter bonanza with bite. Plus, don't miss our page preview of the 20th Anniversary book and a special bumper edition of Community News!
The TzekHaar Front
We're deep in the heart of Senntisten for the final front of the Elder God Wars, and things are really hotting up now. You'll have to fight wave after wave of Ful's most fearsome minions, culminating in a mano-a-mano face-off with the Fight Kiln champion, TzKal-Zuk. It's Gielinor's greatest warriors in a decisive final battle for the fate of the world!
Some of you may be familiar with Zuk, who has previously appeared in Old School RuneScape. He'll offer you a series of challenges, before stepping into the arena himself to crush you with his own hands - and his awesome lava sword!
It's a tough fight - with the very real possibility of getting utterly flame-grilled - but if you succeed, you'll bag some seriously mighty rewards. And if that's not enough for you, there's always Hard Mode... oh, and isn't it Free Death Week this week? Oh yes it is!
Want an additional challenge on top of all that? Well you're in luck because with the release of the TzekHaar Front comes an all-new challenge: 
the TzekHaar Front World's First Race
! Be the first player to complete the front on Hard Mode in a flawless run to be crowned the champion and win a special prize!
To learn more about this climactic encounter and the scorching rewards on offer, check out 
last week's detailed newspost
!
New Marketplace Items
Got that Halloween feeling? Time to mosey on down to the Marketplace and kit yourself out with some creepy cosmetics and a suitably spooky companion.
First up, there's the 
Tithe Collector's Pack, 
featuring:


Tithe Collector's Robes

Tithe Collector's Hood

Tithe Collector's Robe Top

Tithe Collector's Robe Bottom

Tithe Collector's Gloves

Tithe Collector's Boots
[*]Tithe Collector's Scythe
[*]Tithe Collector's Off-Hand Scythe
The whole pack costs 195 RuneCoins for members and 216 RuneCoins for non-members.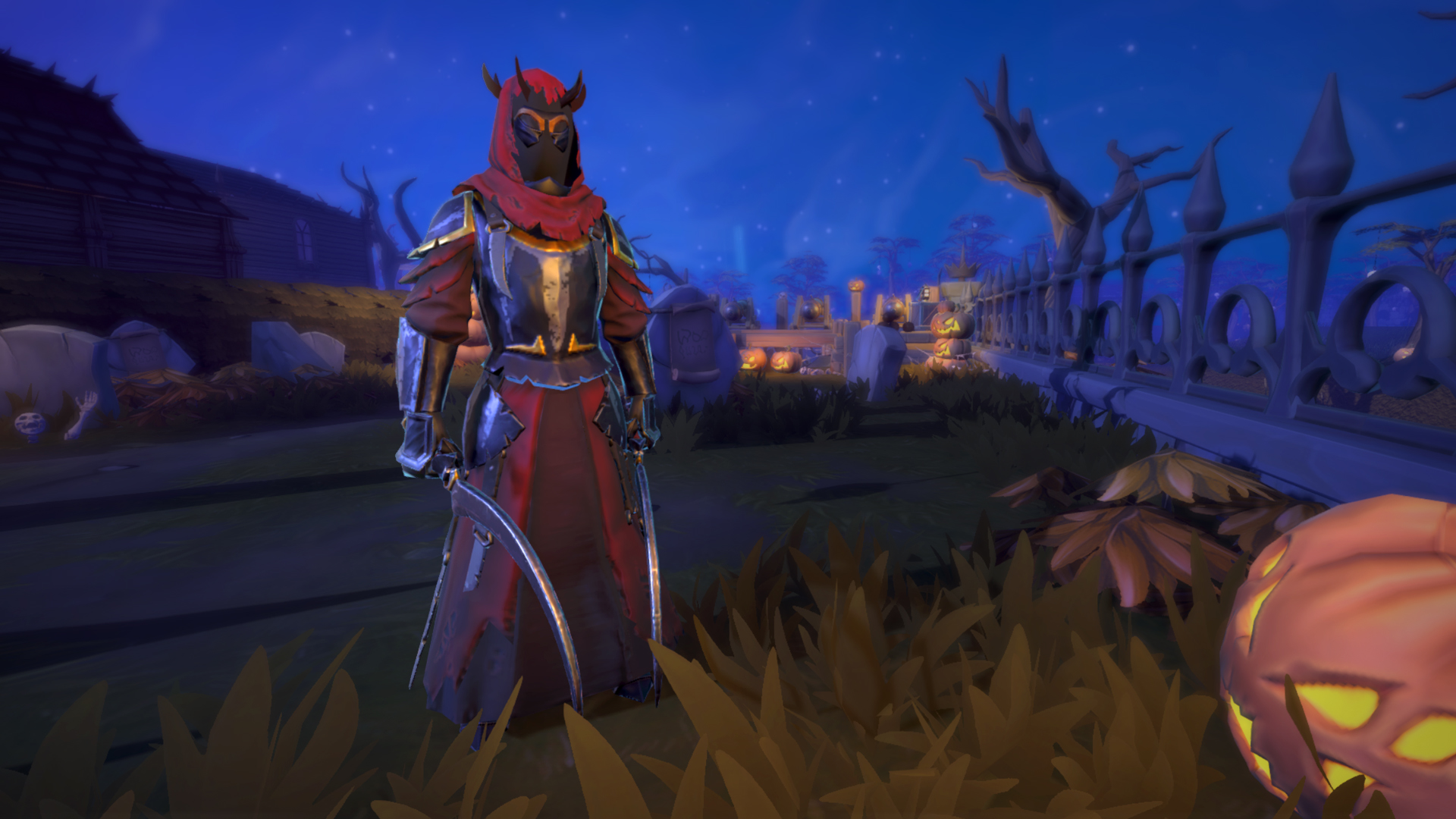 For the real Halloween fiends, get yourself a spooky familiar in the form of the
 Pumpkin Pet!
This petrifying pal
costs 135 RuneCoins for members and 150 RuneCoins for non-members.
Prime Gaming
Have you seen the new drops for Prime Gaming that landed last week? We're psyched about these scarily good freebies!
Featuring 7 days of membership and the wonderfully ghoulish Squashua, our completely gourd-geous pumpkin pet, this is a little Halloween treat for all Prime Gaming members.
The drop is available until November 16th. Not redeemed yours yet? Head 
here 
to get started or to find out more.
Grim Harvest
It's a very special spooky season this year, as we introduce the latest Treasure Hunter bonanza - Grim Harvest! This is your chance to grab some very special items only available over the Halloween period, so mark your calendars now.
By playing Treasure Hunter between 
October 28th to November 1st
 you can earn seasonal Oddments (H'oddments) to exchange for items from previous Halloween Treasure Hunter promotions, including one set of rewards we've not seen for five years - yes, the Walk Like A Zombie collection is back! Furthermore the eerie Zombie Walk override token also returns, available through Treasure Hunter for a limited time!
Please note: Grim Harvest is not available for Ironman players.
RuneScape: The First 20 Years
Our anniversary book, RuneScape: The First 20 Years, is ready and waiting to be shipped worldwide, and we can't wait to settle down to read and reminisce (or just stare at the pretty pictures).
To give you an idea of just how lovely it's shaping up to be, ScreenRant have got some preview pages for you to take a gander.
Check out the full article 
here
!

For more information about where to get your hands on a copy, check out 
last week's newspost
.
Patch NotesIMPROVEMENTS
We've added new notifications for mobile for the following:


Giant Oyster reset

God Statues reset

Troll Invasion reset

Herby Werby reset

Tears of Guthix reset

Premier Club Gold Vault reset
These can be toggled from the setting > notifications > notification channels
FIXES


The additional Nodon Engineer in the Nodon Front has been removed.

Players can no longer die while standing in Death's Office.

Fixed an issue with Shadow Pontifex ring passively working in Wen while it is stored in a Bank.

Croesus Front - Mushrooms that are safe to climb will no longer change location.

There's been a graphical fix for the Lumbrige Crater.

Balancing adjustments have been made to the Mining nodes in the Croesus encounter.

Players that could not unlock the song 'Island Rock' during the quest Pieces of Hate can now do so by talking to Bill Teach.

Hotfixed - Fixed the incorrect removal of the Prime Aura item.

Hotfixed - The Halloween Event NPCs will no longer continually spawn themselves upon booting a server.
Upcoming LivestreamsTUESDAY OCTOBER 26TH | 16:00 GAME TIME | THE TZEKHAAR FRONT - LET'S PLAY
Join our J-Mods as they take on TzKal-Zuk in the latest front of the Elder God Wars Dungeon!
Watch live on Twitch!