Description: The desert sands rarely offer up their treasures, but when they do it is sure to be of interest to those with pure intentions and those with gold in their eyes. Leela, Osman's agent in Draynor, has heard that a new pyramid has been unearthed, and that secrets from the days before the God Wars may well be due some time in the open air...
Difficulty: Intermediate
Length: Medium
Quest Requirements:
Prince Ali Rescue
Golem, The
Icthlarin's Little Helper
Garden of Tranquillity
Skill/Other Requirements:
25 Thieving
35 Construction
35 Cooking
45 Crafting
35 Magic
45 Prayer
Items Needed at Quest Start: a weapon with crush ability, 200 Coins, 2 Shantay passes, Sq'irkjuice (any kind), Hammer, Saw, Al kharid flyer, Jug of wine, Spice, Empty pot, Grain, 20 Fire runes, Willow logs, Knife, Armor, Food, and a Prayer potions if you do not have 70 prayer
.
optional: Amulet of glory/ Ring of duelling/ Explorer's ring, Dramen/Lunar staff, Waterskins or Enchanted water tiara, Ring of charos (a) and a Varrock teleport method.
1.east of draynor village talk to Leela and she will want you to explore a new pyramid.
2. grab armor and weapon head to uzer in the desert and once you've landed head south to the new pyramid. if you have the fairy ring use it DLQ and head east to the pryamid.
3. go around the pyramid and start rummaging through skeletons. they will become alive and attack you. keep killing them until you have found a pyramid journal mummy hand, scroll of the dead and a canopic jar. head north west to a wall for more skeletons. if you have a crush weapon, kill the golem at the entrance while you're there and then when you have collected everything head back to leela.
4. after you talked to her go to ali morrisane. he'll ask for the juice so have it handy.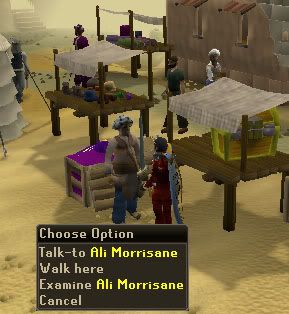 5. grab a al kharid flyer if you haven't already and head to varrock and talk to reldo.
6. grab your saw, hammer willow log, knife, little bit of food, recharge your prayer and bring prayer potions if you have lower than 70 prayer and 20 fire runes. head back to the pyramid and go down the stairs behind the golem. after you went down the stairs, go southeast and collect 3 canopic jars and the mummy with no hand. use the hand that you found earlier on the mummy (duh).
** if you go through the hole in the wall, you'll end up in an area of scarabs. about 3 steps north is another hole, clear this out now so you can use it as a short cut in the future. go back and head to the main chamber.
7. whatever tile you stand on will trigger another tile to go up and block your path or trigger a trap which will deal 20 damage to you. best way is to take a look at the floor and step only on the green and blue tiles.
8. once you've made it to the other side you'll have to fix the room.
9. use your prayer to fix the statues, place the jars on the shelf, fix the tables and chair. put the grain in the pot and spice in the wine and replace those.
10. there is one statue base that you must leave until the end. head up the stairs and kill the shadows. use your fire runes to light up the sconces.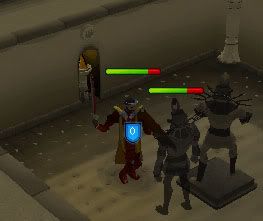 11. when you've light them all up use the willow log to fix the statue and carve it up a few times to make it better. you'll see the pharaoh queen. after you talk to her head back to leela.