May the Fourth be with you
this week as you channel your immense psychic powers towards a new and improved Divination skill! Plus, we've 
doubled
 this month's Double XP LIVE event and there's some shiny new stock in the merch store. We've got a good feeling about this...
IMPROVED DIVINATION
The Improved Divination update 
we spoke about last week
 goes live with today's update! For those of you who missed the post, here's a quick rundown: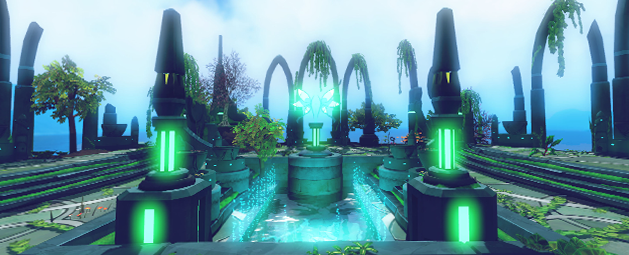 WISP WANDER RANGE
Currently, wisps zip about all over the place, meaning you have to be on the ball to catch them and bring your hard-won resources back to the energy rift. Following this update, they'll only wander up to five tiles away from the rift, which should make this particular aspect of training the skill a bit more AFK-able.
SPRING DURATION
Now that you've got hold of those cheeky wisps, you'll be pleased to know that we've also increased the duration of springs to a cosy 60 seconds. Also, each additional player who interacts with the spring will increase the duration by a flat 15 seconds, up to a maximum of 75 extra seconds. It's like a water cooler chat, but all fancy and mystical.
CRITICAL CHANCE WHILE GATHERING
While gathering Memories you'll now have the chance to score an Enriched Memory - and what's more, this chance can go over 100%! At 150%, for example, you'll get one Enriched Memory and a 50% chance to nab another. Not bad!
MEMORY OVERFLOW
Memory Overflow is another opportunity to get some social time in while you skill. It's a brand-new buff that triggers when you and a few other players contribute Chronicle Fragments to a regular energy rift until it overloads, at which point you'll gain the following effects:
+1 base energy from deposited Memories
5% more XP from deposited Memories
10% higher critical chance when siphoning from nearby springs
Spawns an Enriched Wisp which boosts your crit rating by 100%. This mechanic replaces Enriched Wisps spawning every 20 minutes.
CHRONICLE FRAGMENTS
Chronicle Fragments have taken a page from the Fire Spirits' book and will now spawn next to you and remain immobile. If you're paying attention and grab the Chronicle Fragment within six seconds, you'll get an Enriched Chronicle worth a little bit more XP - and a lot more progress towards Overloaded Energy Rifts.
SIGN OF THE PORTER VII
Sign of the Porter VI, previously the highest level there was, has been shuffled down to a 94 Divination requirement, and now requires 80 Luminous Energy to craft. Why, you ask? To make room for Sign of the Porter VII, a new level 99 sign that holds 50 charges and requires 120 Incandescent Energy to craft.
TRANSMUTATION
We've added a bunch of new transmutation tiers for both fish and ores, but don't take our word for it, have a look for yourself:
Fish
Raw Sharks = Lustrous Energy + Raw Monkfish
Raw Sea Turtle = Brilliant Energy + Raw Shark
Raw Cavefish = Radiant Energy + Raw Seaturtle
Raw Mantaray = Luminous Energy + Raw Cavefish
Raw Rocktails = Incandescent Energy + Raw Mantaray
Ores
Luminite Ore = Sparkling Energy + Mithril Ore
Orichalcite Ore = Vibrant Energy + Runite Ore
Drakolith Ore = Vibrant Energy + Runite Ore
Necrite Ore = Lustrous Energy + Orichalcite Ore
Phasmatite Ore = Lustrous Energy + Drakolith Ore
Bane Ore = Radiant Energy + Necrite/Phasmatite Ore
Light Animica = Incandescent Energy + Bane Ore
Dark Animica = Incandescent Energy + Bane Ore
OTHER ITEM CHANGES
Having changed the skill to this extent, there are a number of other items and rewards that have been rebalanced to fit snugly into the new meta. Lucky for you, we've got a big list of those changes right here:
Divination Skill Cape: Boosts a spring's minimum duration by 30 seconds, one time per spring. This effect does not stack with that of Ethereal Connection.
Ethereal Connection: Boosts a spring's minimum duration by 30 seconds, one time per spring. This effect does not stack with that of the Divination Skill Cape.
Fading Memory: Retains all current effects bar the duration increase. Instead, Fading Memory now provides 20% Crit Chance.
Elite Divination Outfit: 5% chance of granting a 100% crit chance.
Elder Divination Outfit: 7% chance of granting a 100% crit chance.
Prism of Dowsing: Grants 5% crit chance when nearby.
Chronicle Absorption: Instead of absorbing the Chronicle Fragment, the prayer now automatically picks up the Chronicle and provides an Enriched Chronicle.
Spirit Attraction Potion: As above!
Abyssal Transit: Chronicles can now always be offered from Inventory, but the Abyssal Transit doubles the progress towards Overloaded Energy Rifts when dropping off Chronicle Fragments.
Raring to get going with Divination? Then you're in luck, because this week's update also kicks of an extra-special Double XP LIVE!
DOUBLE XP LIVE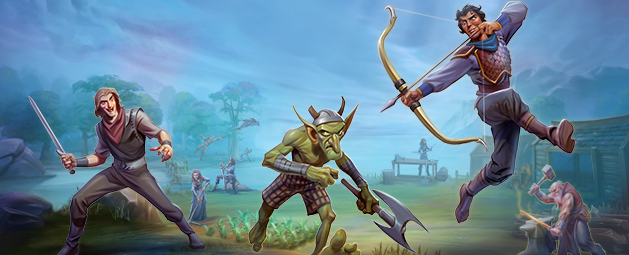 Double XP LIVE is back, and this time it's... doubled! To help make things right after the Login Lockout situation we're extending this month's Double XP LIVE event by 10 whole days.
So, from now until May 24th, you've got 48 hours of Double XP time to spend however you wish! Whether you want to dip your toes into Divination right away, or take a little time to plan out your skilling adventures - it's all up to you.
For more information, check out our 
Double XP guide
.
MERCH STORE
New in stock this month, we've got even more 20th Anniversary merch! You might have spotted these in the care packages we sent out to our content creators earlier this year, but now everyone has the chance to get their hands on these celebratory goodies.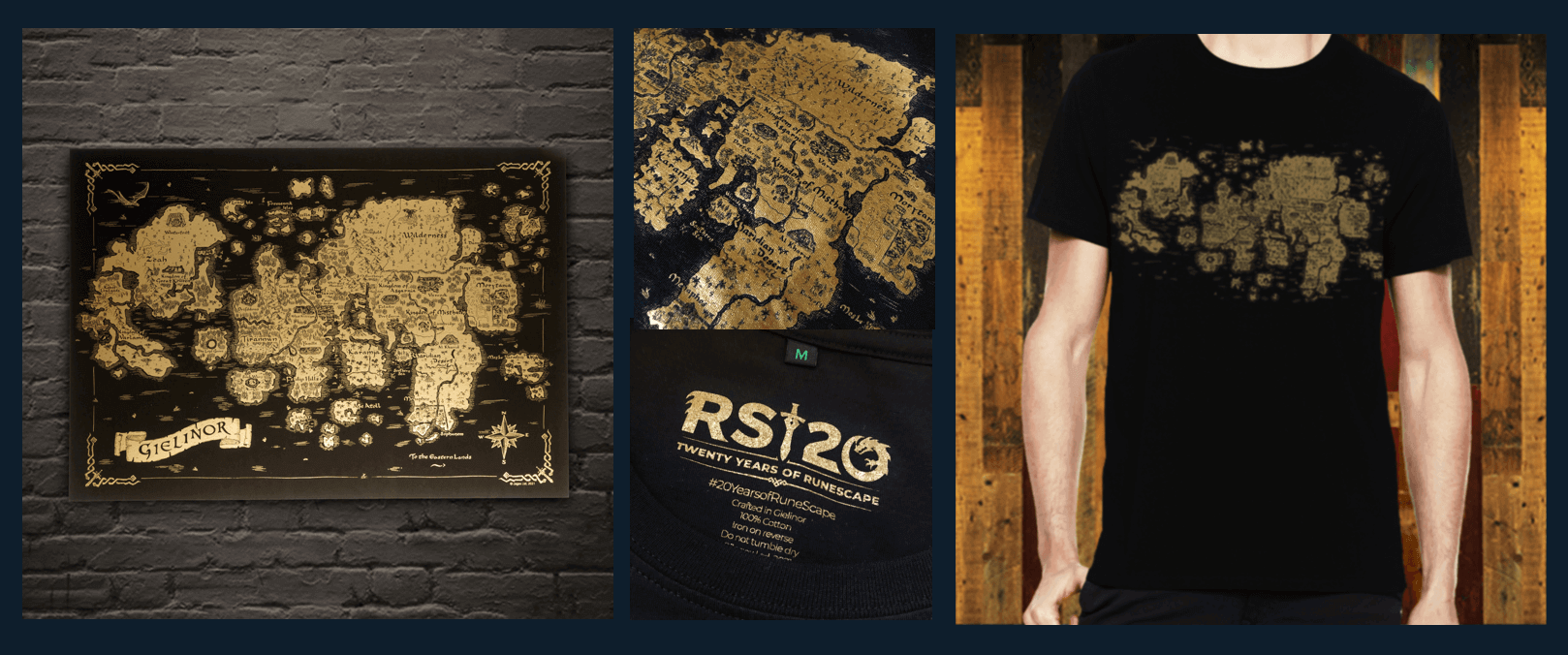 First up is this 
extremely stylish 
black and gold Map of Gielinor print. It's just the thing to brighten up your home office - and even if you don't have one of those, it's also big enough to cover up that weird stain on the wall. You know the one.
If you prefer to wear your heart and/or your favourite game on your sleeve, you'll want to pick up the Commemorative Black and Gold Map of Gielinor Tee, which comes with a 20th Anniversary Logo in the neck.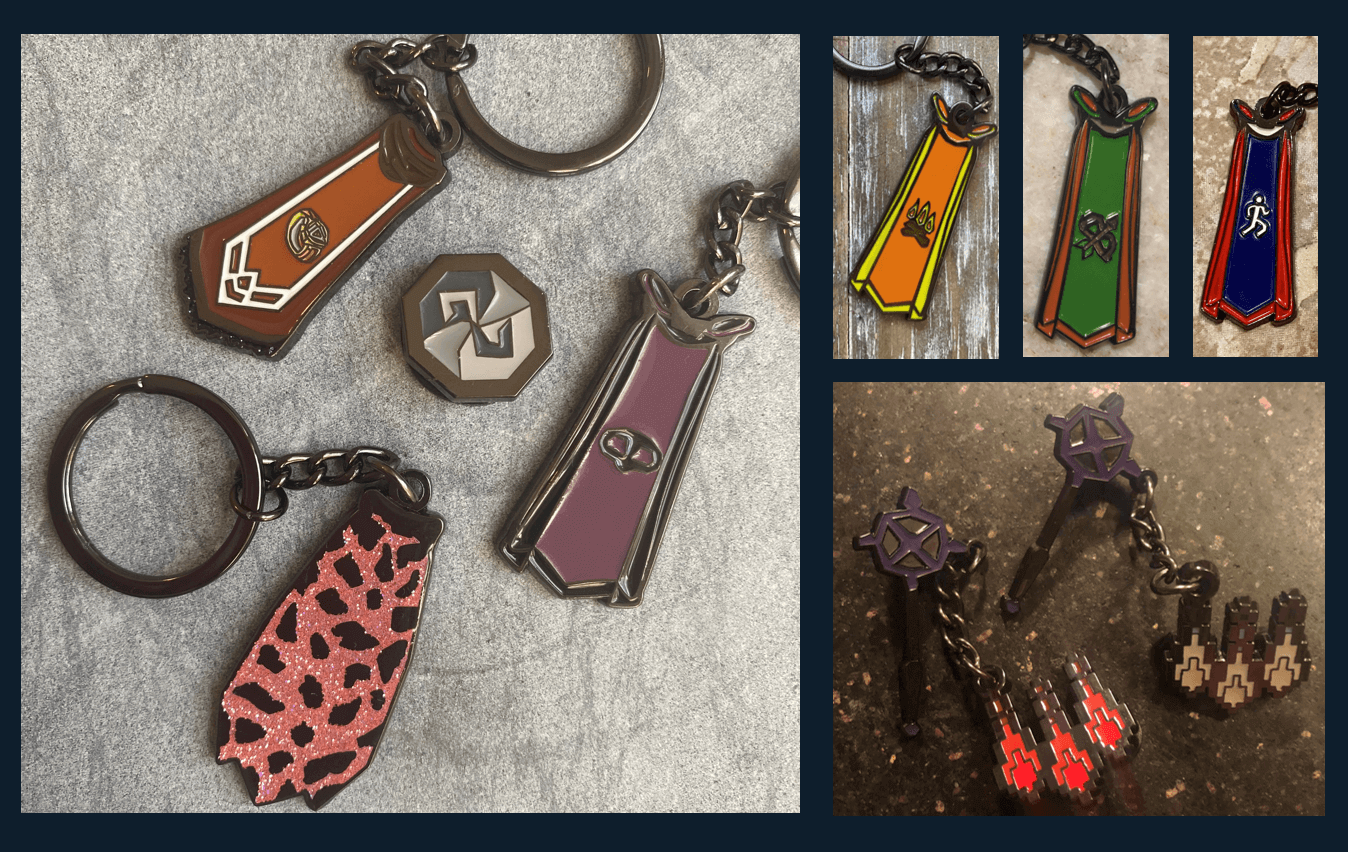 But enough about us - RuneScape's anniversary isn't the only milestone we're celebrating this time around! Angels Scapes has now designed an incredible 200 pins and keyrings for the official merch store, and to celebrate, she's gone and designed a few more! Check the store now to grab the following:


Angels Fire Cape (200th Design Limited Edition)
Void Seal Pin
Dungeoneering Master Cape Keyring
Thieving Skill Cape Keyring
Speaking of Skill Capes, we've restocked three of our most popular Skill Cape Keyrings: Agility, Ranged and Firemaking, as well as the Blood and Ice Barrage Pins.
See all this and more, over at 
the official Merch store
.
- THE RUNESCAPE TEAM